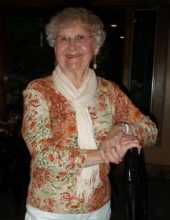 Obituary for LaVerne Hilda Brueggemann
LaVerne Hilda Louisa May Helm Brueggemann
October 20, 1931 - April 12, 2018

She was the daughter of William Helm and Ida Krueger Helm of Cedarburg, WI. The Helm and Krüger men led the Old Lutherans from Pomerania, Prussia to Wisconsin in 1839 to escape religious persecution. Mom had this same humble, trusting faith in her Lord Jesus Christ.

Preceded in death by her parents, husband of 50+ years Walter Hubert Brueggemann, sister Lorraine Helm Hammetter (Gerry), mother and father-in-law Laura Lemke and Walter Henry Brueggemann, Great Aunt Rosie Milbrath and her daughter Florence Schneider; nieces and nephews Douglas Hammetter, Colleen Hammetter Bloch, Eddie Hidek, Karen Kalmerton, Janis Schleicher; brother-in-laws Bill Brueggemann, Harrison Brueggemann, Larry Hidek, Bill Bryant; sister-in-laws Ruth Hidek, Gertie Bryant, Betty Heinecke, and Leona Brueggemann.

She is survived by sister Donna Helm Kuhn (Roger) Minnesota; 4 children Sally Brueggemann Huntsberger (Jeff) Ohio, Nina Brueggemann Quaintance (Bob) Ohio, Terry Walter Brueggemann (Kari Foss) Virginia, and Carol Brüggemann, Germany.

Mom was a model Proverbs 31 woman; strong in faith and nurturing to her family. She graduated from Cedarburg High School and took college classes in Social Science and in Textiles. She was an excellent seamstress, cook, and had a voice like Julie Andrews. LaVerne loved it when family gathered around the piano to sing. For many years she sang at local nursing homes. She had many wonderful neighbors and friends at Parkside Church.

Grandma Brueggemann was blessed with 9 grandchildren: Robert Quaintance (Diana Mejía), Rose Quaintance Eisengart (Mike), Kathryn Quaintance Carmany (Paul), Jason Huntsberger (Jessica Dalzell), Kristen Huntsberger Miller (Dean), Sarah Huntsberger Dorsky (Matt), Nathan Huntsberger (Ally Harley), Matthew Brueggemann, Bradley Brueggemann (Brittany Poythress).

Great Grandma Brueggemann loved her 13+ great grandchildren: Jairus Huntsberger, Atara Huntsberger, Malachi Huntsberger, Logan Miller, Evan Miller, Grant Miller, Josie Dorsky, Norah Dorsky, Jason Eisengart, Joanna Eisengart, Walter Quaintance de Mejía, Alexander Quaintance de Mejía, Tatum Brueggemann, and Baby Carmany due in August.

LaVerne is survived by friends-like-family June and Ken Naeser, sister-in-law MaryAnn Brueggemann Yahr (Fritz), nieces and nephews Dan Hammetter, Dick Hammetter, Jane Swanson, Stephen Kuhn, Lori Wathen, Lisa Griffin, Jon Kuhn, Mike Hidek, Tom Lemke, Judy Heinecke, Barbie Yahr, Linda Tunstall, Deb Reak, Jane Shepard, Mark Bryant, David Bryant and Mary Shaw.
A private burial and memorial service is being held. Donations may be made in honor of a life well lived to SERENITY HOSPICE 4466 DARROW RD, STOW, OH 44224 or Parkside Church.
Memorial Contribution
Serenity Hospice
4466 Darrow Road
Stow, Ohio 44264